We take your answers to the questions and use our experience to compare it to our vast database of cars (and trucks). We then rank the cars (or trucks).
What makes CarFriend different?
CarFriend has three main differences from other car shopping websites like
The main difference is that the cars or trucks we recommend for you is different from what me recommend for your neighbor. We do this because people are different and have different needs. Think of it like an online dating site - we ask questions before we give you a list to consider. The more you answer, the more accurate we can be.

We are the only website that considers both new and used cars and trucks equally. When we give you a list of the top 5 cars we recommend, the list is likely to contain both - unless you ask us not to.

We use the feedback you provide to constantly improve the quality of our recommendations. If you come back in 6 months to look again you may find a different set of recommendations. That is because some of our other friends may have had a good or bad experience with a certain car or dealer and we will revise our ratings.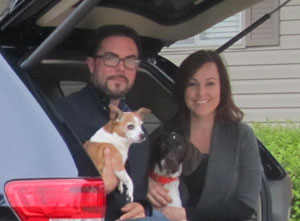 "Thankfully, CarFriend provided reliability/cost of ownership concerns on these vehicles which instantly reversed my decisions to test drive. That saved me a lot time!"
Read more of Ryan's story
FAQ
How do I know your recommendations are not biased?

Actually our recommendations are biased - but they are biased based on our own experiences and the feedback you provide. We do not take any advertising or fees to rate one car or dealer higher than another. We will always provide full disclosure in our recommendations on how we arrived at the results.

I filled out the profile but only got a short list of recommendations. Why did I not get one like I saw on the home page?

There is only one time where we do not perform the full service of recommending a car and giving you links to find them; when you are not ready to buy a car. Why do we do this? Because the recommendations we make are based on several factors that change with time. Incentives change (sometimes on a weekly basis), car inventory is always changing, and your situation changes too.

I don't know what to do with my current car. Can you help me there too?

We provide all kinds of automotive advice, not just what you should buy or lease but what you should do with your current car. Fix it, sell it, trade it in, we will ask some questions and provide you some advice.